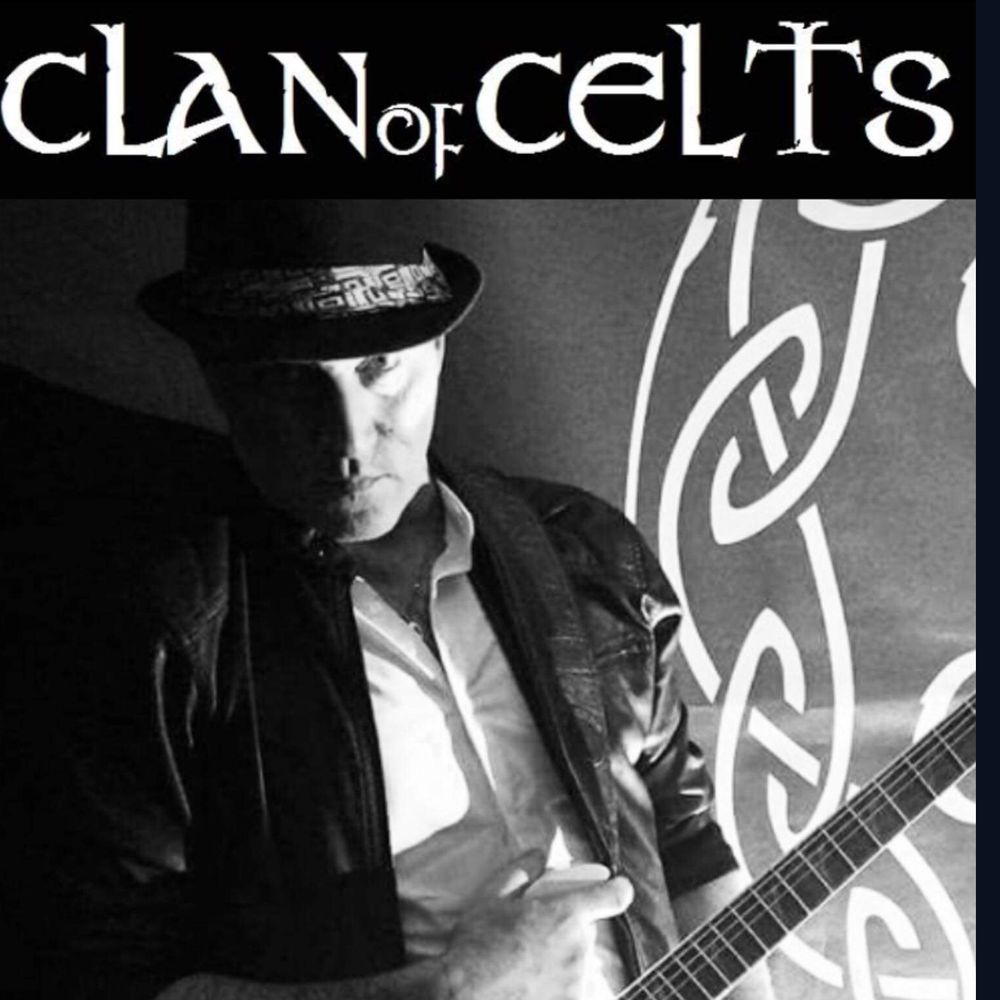 Denis "DD" Dowling
Guitar and Vocals.
From Co. Kildare, Ireland, Denis started playing guitar at 16 after receiving a tax rebate. From that point, there was no looking back. He formed his first band "Used and Abused", a punk band that played covers from the Sex Pistols and Stiff Little Fingers.
Denis eventually moved to London to work in construction. Then thirteen years later, after retiring from his first love, Gaelic Football, he went back to the music scene. He joined cover band, Wicked Sensation, playing in the Irish Circuit in London.
In 2000, London based band, Evil Puppies, invited Denis to join them. They gigged in pubs and clubs; they played music from the likes of Rage Against the Machine and The Pogues.
Denis has an extensive music career to date, playing in-session and on stage with Dave Ruffy (The Ruts) Pete Jupp (FM) and Bob Skeat (Wishbone Ash) also guesting with The Popes and Shane MacGowan on their 2003 Australian tour, as his brother was in the band. Shane asked if Denis would like to join the band, he declined, stating "two Dowlings in the one band would make Oasis' Gallagher brothers look angelic!" Yet later fronted The Popes, in a tribute to their late banjo player, Tommy "MacAnimal" MacManamon.
It was in 2016, after becoming disillusioned by the pubs and clubs cover circuit, and to fulfil his passion for writing music, that Denis set up Celtic rock band, the Clan of Celts.
Since the birth of the Celts, Denis has continued to guest with other artists, including Australian rock band The Rumjacks, playing on the album Saints Preserve Us, adding guitar to "Cold London Rain" and backing vocals to "An Poc ar Buile".
Denis' musical influences include Thin Lizzy, Gary Moore, Marillion, Mama's Boys and Mark Reale's
Riot.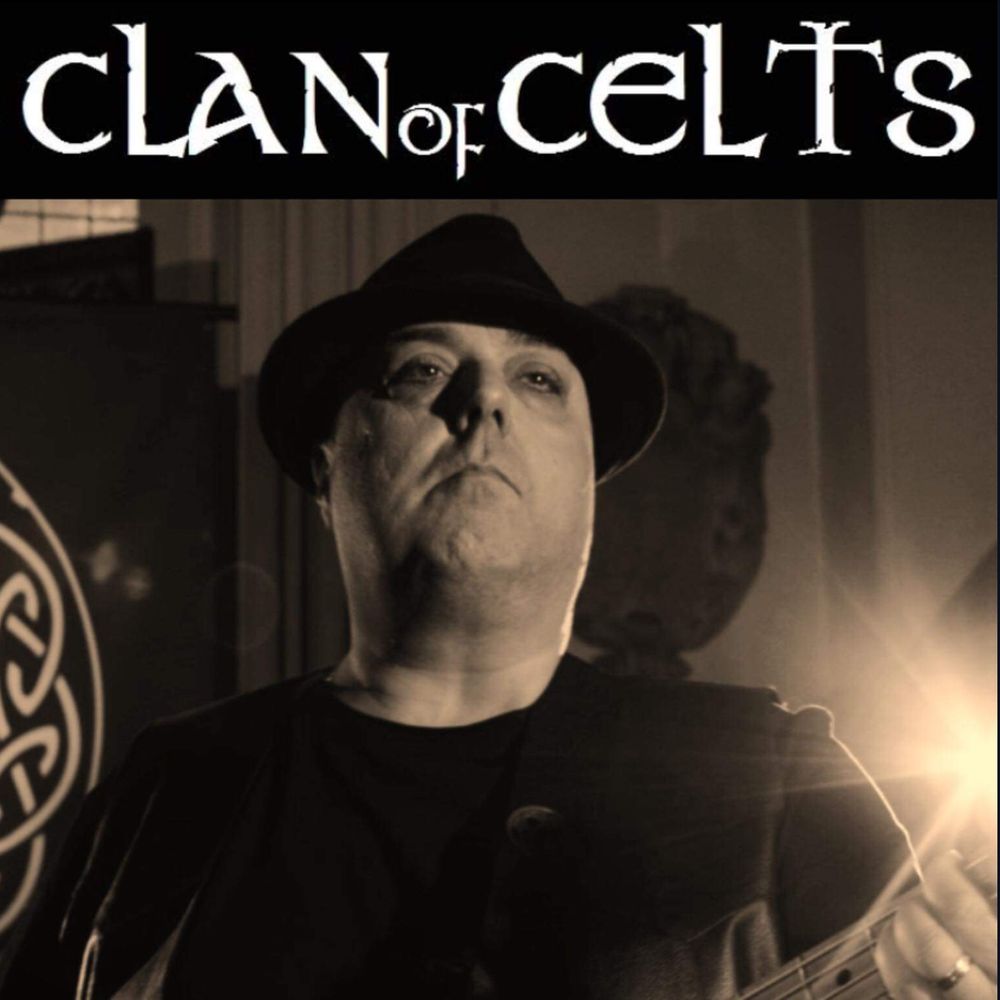 Alistair McCaig
Bass & Production.
With early musical influences of Motown, funk, and soul, together with a diet of James Jamerson, Bernard Edwards and Lois Johnson filling the house, Alistair realised the role of the bass in music. He first picked up a guitar at 15 and formed a band with school mates.
However, it would be British heavy rock that really got under his skin, meaning Geezer Butler, Lemmy, John Paul Jones were his new heroes. At 16, his school band, Sweet Revenge, was lucky enough to get a slot on the rock stage at the infamous Luton Carnival.
At 17 Alistair formed "The Founded". They signed to a small record label and released a (limited quantity) 7 inch vinyl double A side featuring the track 'Run to Hell'. Copies of this single fetch up to $300 on rare vinyl auction sites.
He made a name for himself locally with his unique 'slap n tap' bass style. He got recruited by rock, pop, jazz fusion band Black Taxi. The band cut a demo at a top London studio, and it would be this experience that began his fascination with the recording process. They converted the first floor of the factory unit into a rehearsal space and later into a commercially run 16 track recording studio.
Alistair then joined Azure. One of the signature sounds of the band, alongside brilliant song writing, was his custom-built fretless bass with brass percussive plate on the neck for slapping onto.
A year later, he had a chance meeting with well-known synth and Moog player Tigger, who was gigging with cover band, Napoleons. The band approached Alistair to play bass. He would soon to be joined by the former Then Jerico vocalist.
Napoleons toured the UK and Europe for a couple of years. Later, an opportunity for a Canadian tour came up. They toured Canada for four months, which including highlights of a three-night headline at the Quebec City Palladium.
Alistair spent the next 20 years playing in top London cover bands, peppered with extensive touring of Europe, Scandinavia, Israel and the UK.
Later he joined cover band the Evil Puppies along with Denis Dowling. Alistair is an original member of the Clan of Celts, joining at the band's formation back in 2016.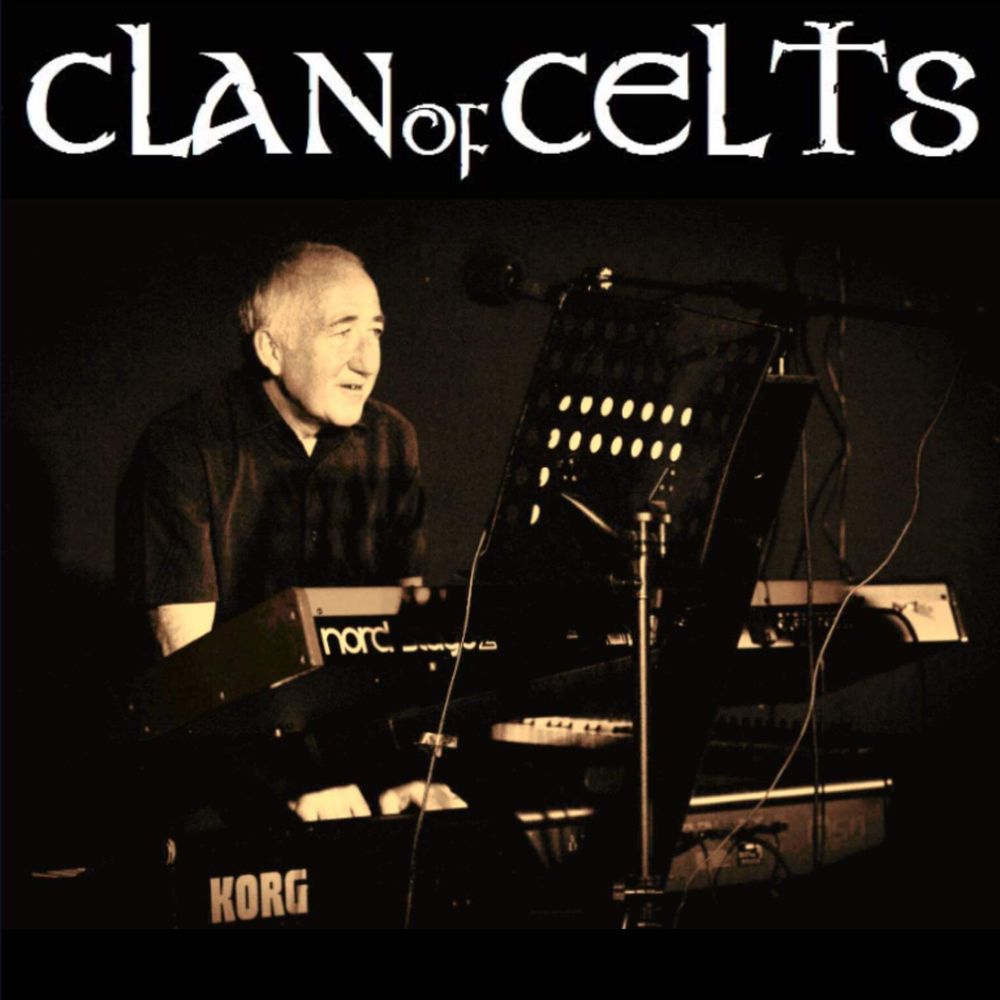 Tim Newcombe
Keyboards, Piano and Organ.
Tim's musical career began at 5 when his parents bought him a secondhand piano. Many notes were missing and it couldn't tune higher than 3 semitones under concert pitch, but was perfect for capturing his interest in the instrument.
Later, he gained his grades with the Associate Board of the Royal School of Music. His classical training and interest in the fugues and preludes of Bach contrasted with a passion for improvisation within the blues rock and jazz genres.
Tim attended a blues club called The Scotgate in Stamford, Lincolnshire, during the early 80s, playing with the resident blues band.
Since then he's been occupied playing and recording with many bands and musical styles. He gained a recording contract in the late 1980s with Clash Records, recording in their Golders Green studios, who spawned artists such as "The Clash". He began a theatre tour as part of the show's band around the UK with the acclaimed musical "General Micky".
Tim has played in-session with a variety of artists, from Billie Davies to Alan Warner of the Foundations playing to huge theatre audiences. More recently, becoming keyboard player for premier Celtic rock band Clan of Celts.
During session work, his passion for progressive rock music never faltered, with King Crimson, Pink Floyd, Camel and Genesis occupying an important space in his music collection and he has created the prog band MobiUS drawing on these influences.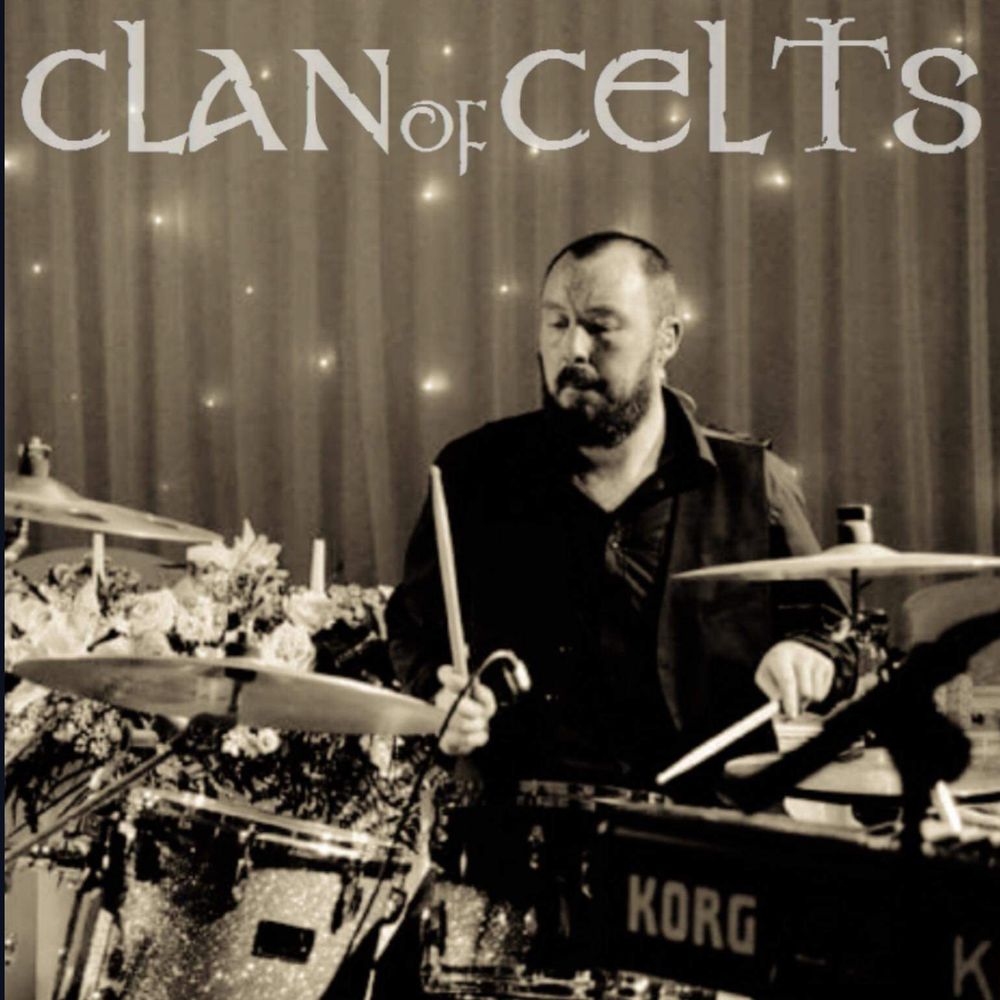 Nicky Keogh
Drummer, percussionist, and multi-instrumentalist.
Nicky grew up in a musical family. He started learning music from his grandmother aged four, progressing to piano at the resident music school in Newbridge Co. Kildare, Ireland. Having always had an instinctive feel for rhythm, he naturally leaned towards drums and percussion. At ten, he joined Newbridge Community Band. Here he studied military and marching style drumming under the supervision of renowned drummer Davy Scott. It was through this that he found his feet musically.
At 16, he went to the Newbridge School of Music to better hone his skills and study for grade exams from the London College of Music. It was here that he met world-renowned percussionist Derek Doyle, formerly of Riverdance and NO.1 Army Band.
Successfully passing grade 8, he advanced into the local music scene. Nicky picked up the trade, gaining valuable gigging experience while studying at Ballyfermot Rock School under one of Ireland's top drummers, Matt Kelleghan of Moving Hearts.
Nicky spent many years performing with the Browne family as part of their family band featuring distinguished vocalist Tammy Browne (Voice of Ireland) and her two brothers. Being part of this group helped him gain valuable live-gigging experiences. It opened many doors on the Irish covers circuit and lead to him playing with some of the greatest musicians in Ireland and abroad.
Besides his passion for drumming, Nicky has a profound passion for traditional Irish music. He plays bouzouki, mandolin, and guitar (DADGAD style), inspired by Dónal Lunny, Andy Irvine, and Christy Moore. He takes part in various traditional Irish sessions with some of the finest traditional players around.
He graduated in 2020 with a BA Hons Music degree from Technological University in Dublin. He has studied under some of the finest musicians in Ireland, playing and recording with various artists and bands on the Irish music scene. Nicky is now part of the Clan of Celts in the UK.
His biggest influences in drumming include Brian Downey from Thin Lizzy, Steve Gadd, Neil Peart, and Carter Beauford, to name a few.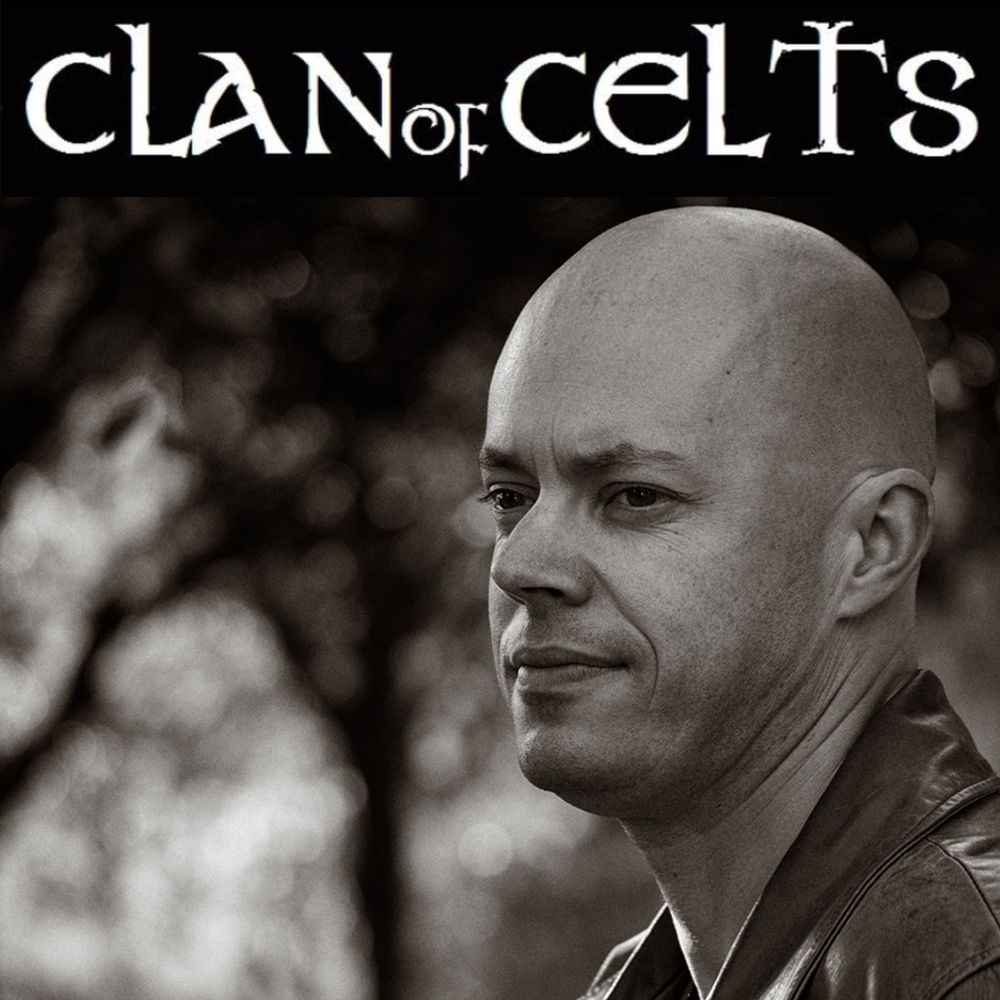 LOÏC BLÉJEAN
Uilleann Pipes and Low Whistle.
Loïc hails from Brittany in North-West France. Known as one of the finest, most prolific exponent of the uilleann pipes today, he continues to push the boundaries of this legendary instrument, exploring many musical genres. 
Since his apprenticeship in Ireland thirty years ago, he has played at the famous Shakespeare's Globe Theatre, recorded in studios worldwide, and played at major festivals. 
His passion is for Irish tradition and playing uilleann pipe and low whistle and is technically brilliant with both instruments. A crisp clean style characterises his playing, with wonderful clarity in the separation of the notes with an evocative, almost mournful, eerie sound loved by aficionados. One Breton website describes him as piper étoilé, a just and fair description!
He started playing the pipes in 1989, under the tuition of Alain Le Hegarat. He then travelled extensively in Ireland, meeting many wonderful musicians. Since those days, he has developed a versatility and adaptability, enabling him to collaborate with a wide variety of musicians in many styles. 
He has played alongside fiddler Paul Flynn, singer and guitarist David Muldrew, plus influential bands such as pop rock band Glaz, and Gwazigan. 
Notable work in Ireland includes "Session with the Pipers" concert series at the Cobblestone in Dublin and William Kennedy Piping Festival in Armagh. They invited him in 2009 and again in 2013, the first time with his brother Ronan on the button accordion, the second with New York concertina player Louisa Bennion.
His ability to understand other genres has led to performances with jazz band The Boclé Brothers, with whom he recorded the album 'Rock The Boat', released in 2015. He also e tours the world with Belfast-based supergroup Réalta. He joined the band just before their first U.S. tour back in February 2019, and has been touring with them all over the USA and Ireland ever since. 
Loïc also performs as a trio with brother Ronan and lifelong friend Nicolas Quémener, also as a duo with Louisa Bennion and Siobhan O'Donnell. In 2009, he and Ronan founded the 'Irish Rendez Vous' Festival, held on the north coast of Brittany, promoting Irish traditional music of the very best. His other passion, besides music, is a slightly worn, well used Mercedes motorcar.